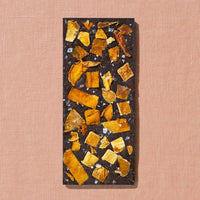 Date-Sweetened Chocolate
Mango, Urfa Chili, & Lime
*** Please note that this product is made from chocolate and will melt if shipped through or to a location with temperatures above 80º. We cannot be responsible for chocolates that arrive melted; please use discretion when ordering for delivery. To reharden your chocolate bar, simply place the item in the freezer for 1-2 hours before consuming.
Succulent mango slices mingle with subtly smoky chili, tart black lime, and a pinch of flake salt, setting off a savory sweetness atop date-sweetened dark chocolate that feels both tantalizing and enchanting.
For that classically rich, smooth, and fudgy dark chocolate flavor, Spring & Mulberry uses the standard-bearer: West African cacao that comes directly from a cooperative in Suhum, Ghana, the country's first-ever biodynamic and organic farming region.
Made with 72% cacao and 0 grams of added sugar.
Net wt. 3 Ounces
Full Ingredients List: Suhum Cacao Beans*
Dates*
Cacao Butter*
Unsweetened Dried Mango
Spicewalla Urfa Chili
Black Lime
Jacobsen Flake Salt

MAY CONTAIN TRACES OF TREE NUTS
*ORGANIC
ABOUT Spring & Mulberry
A trip to Dubai on the way to visit her husband's family in India awakened Spring & Mulberry founder Kathryn to the pleasure and beauty of dates, no longer relegated to the bulk bins of American grocery.

Fast-forward a few years later and a cancer diagnosis led her to quit refined sugar and explore the healing power of foods. With nothing to satisfy her sweet tooth, she started experimenting with dates, fruits, nuts, and cacao, discovering a depth of flavor and range of sweetness that are the foundation of Spring & Mulberry's products today.
SHOP ALL FROM Spring & Mulberry