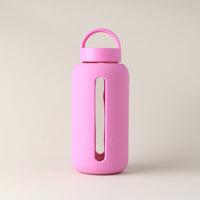 Hydration Tracking Glass Water Bottle
Bubblegum
A simple, well-designed glass water bottle with hydration tracking to help you meet your daily recommended water needs. Because your health is your greatest asset, and drinking enough water should never feel abstract or unattainable. 

The Day Bottle is a modern water bottle evolved to your needs - this water bottle is made from soda lime glass (one of the cleanest and safest materials for food storage), and features a wide mouth opening that's easy to clean and allows you to fill your bottle with ice or fruit pieces with ease. The sturdy handle makes for easy carrying and the silicone case provides a non-slip grip.
Pair with the compatible Lounge Straw & Cap and sip your way to hydration all day long! 
Made from soda lime glass with a food-grade silicone sleeve. Dishwasher Safe (no need to remove the silicone cover).
800ML | 27 Ounces
The Day Bottle by Bink checks all the boxes for us when it comes to the perfect water bottle - it's made from glass (the safest material to drink out of), has a wide mouth for ice and easy cleaning, is dishwasher safe, and has a protective silicone cover. It also holds 800ML of water, which means you're not refilling it constantly.

Our tip? Level-up with the Lounge Straw & Cap add-on; they promote all-day sipping for optimal consumption and the wide-design straw helps you achieve your hydration goals.
This product is made from glass and silicone.

If you'd like to discard this product, remove the silicone sleeve and either place it in the garbage or send it to a specialty recycling facility that accepts silicone. The interior glass bottle can be placed in your curbside recycling bin.
ABOUT Bink
Leslie and Ben, co-founders of Bink, spent 2 years developing a simple and thoughtfully designed range of wellness water bottles. Drawing on their expertise in Design and Health Care they set out on a mission to see if they could create water bottles that empowered you to be more mindful of the water you drink everyday! Their simple hydration tracking water bottles are designed to help you meet your daily water needs, because drinking enough water should never feel abstract or unattainable.
SHOP ALL FROM Bink