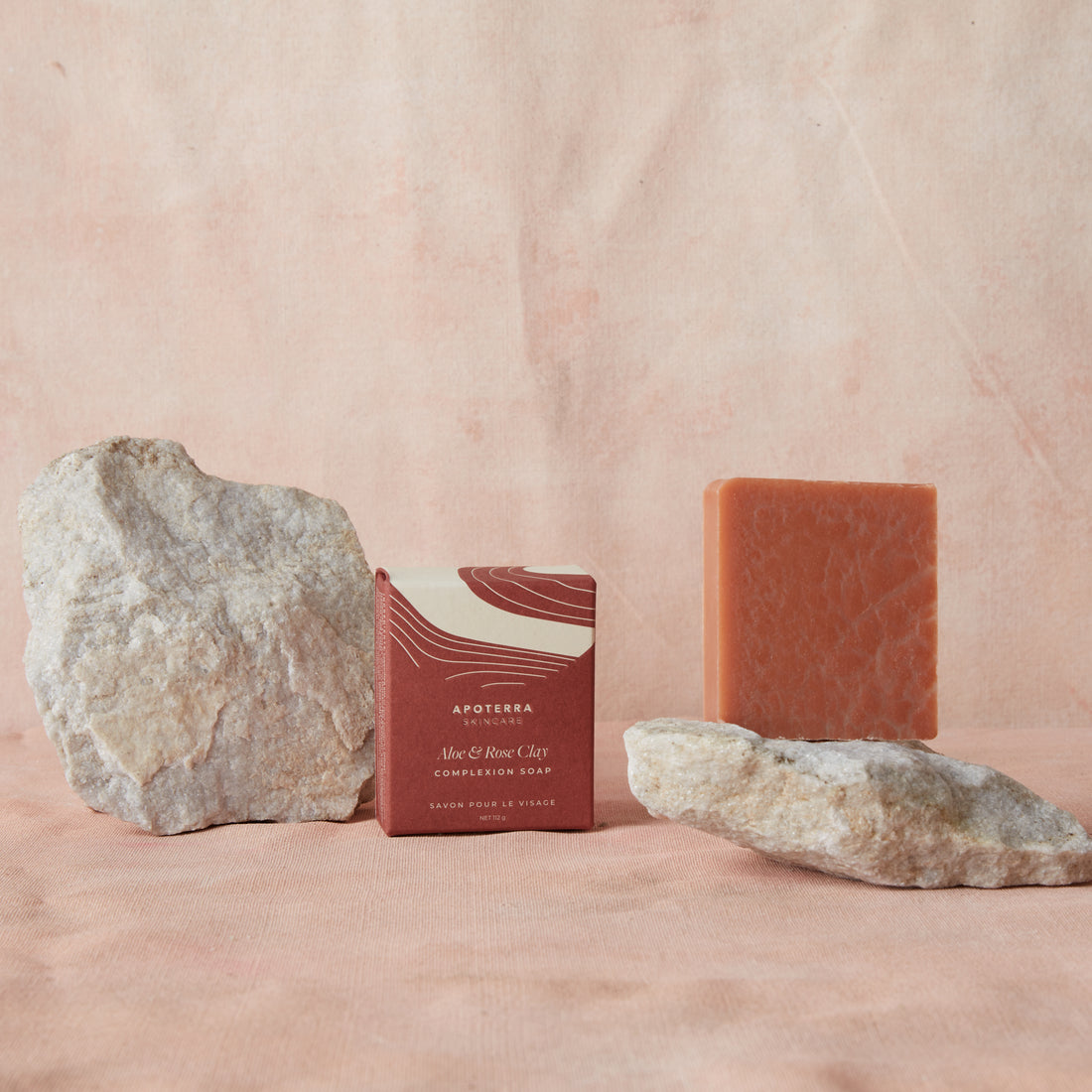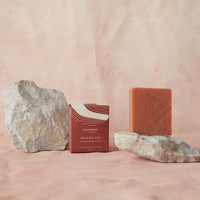 Aloe & Rose Clay Complexion Soap
Aloe & Rose Clay
This luscious foaming bar cleanser, made for dry, sensitive, and aging skin, as well as dehydrated acne-prone skin, offers an effective, yet gentle cleanse. The formulation features a beautiful pink clay that helps to gently exfoliate while lifting away dirt and impurities. With soothing organic aloe leaf, nourishing rose petals, rose geranium, and jojoba oil, it's no wonder this rosy aromatic cleanser is a customer favorite. 
Best for mature skin, dry skin, sensitive skin. 
This product is useful for the following skin concerns:
Sensitivity & Redness and Acne & Blemishes
This product is best suited for the following skin types:
Sensitive Skin, Mature Skin, Dry Skin, and Acne-Prone Skin
Wet hands and lather up this brightening pumpkin soap until a rich, creamy lather forms. Gently massage lather into wet skin to gently remove dirt, makeup, SPF, and any other signs of the day. Rinse with warm water or use a warm towelette to remove stubborn makeup.

We love multi-tasking skincare products because they keep our skincare routine simple and help reduce our environmental footprint - although formulated specifically as a facial cleanser, this soap is effective head-to-toe. Great as a face, body and hand soap!
Aloe Vera is a known skin soother, perfect for calming and clarifying the skin. It also contains polysaccharides and sterols which help bind water to the skin and is rich in antioxidants that help prevent premature aging.

Pink Clay has a unique composition which includes Kaolinite, Iron, Illite, Montmorillonite and Calcite. It can be used to cleanse and detoxify the skin, exfoliate dead skin cells, and to give skin a rejuvenated appearance. It is also helpful for blemish-prone skin.
Full Ingredients List: saponified oils of Olea europaea (olive) oil*, Cocos nucifera (coconut) oil*, Elaeis guineensis (sustainable palm) oil*, and Theobroma cacao (cocoa) seed butter*, Rosa damascena (rose petals)*, Aloe barbadensis leaf *, kaolinite (pink clay), kaolinite (white clay), Simmondsia chinensis (jojoba) oil*, Pelargonium graveolens (rose geranium) essential oil*, rejuvenating essential oil blend*

*certified organic
ABOUT Apoterra
The folks at Apoterra want skincare that works and they're not willing to compromise their health or the planet to get that glow. In 2008, founder Dominique Caron was frustrated with the lack of options that worked for her sensitive breakout-prone skin, that were also safe, eco-friendly, and effective; so she set out on a mission to create effective natural skincare products that checked all of her ethical boxes. She founded Apoterra in 2012, then known as Caru Skincare Co, after years of research, certifications and trial and error. As it turns out, you don't have to compromise your values to achieve healthy, glowing skin!

SHOP ALL FROM Apoterra