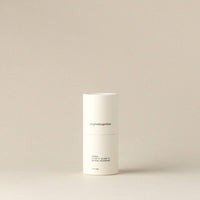 Evolvetogether's natural deodorant uses advanced technology and a plant-powered formula to absorb sweat, soothe skin, and neutralize tough odors without any white marks or build-up causing ingredients like aluminum, baking soda, or talc — leaving only Havana's spicy scent behind.
Open woods and natural spice. Grounded in cardamom, violet, vetiver, and cedarwood.
1.7 OZ
Only apply (and reapply!) to clean, dry underarms — damp skin reduces effectiveness

Unlike other natural deodorants that stop working after a while or sweat-blocking antiperspirants, Evolve Together's natural deodorant is made without build-up causing ingredients like aluminum, baking soda, or talc.

For the best results, we recommend a 1 to 2 week "underarm detox" by exfoliating daily with a natural fiber scrubber and going bare (no antiperspirant or deodorant) to remove buildup from your pores.
Full Ingredients List: Propylene Glycol, Water (aqua/eau), Sodium Stearate*, Tapioca Starch*, Saccharomyces Ferment*, Fragrance (Perfume), Glycerin*, Phenoxyethanol and Caprylyl Glycol, Panthenol, Disodium EDTA, Triethyl Citrate (CitricAcid).

*Plant Based
ABOUT Evolvetogether
8 billion of us share this one beautiful world and when we evolve together, all our small actions can add up to a lot of good. That's why Evolve Together makes beautiful, high-performing daily essentials to take care of people and the planet — and stamp each one with global coordinates as a reminder that we're all connected no matter our race, gender, religion, or where we live.
SHOP ALL FROM Evolvetogether