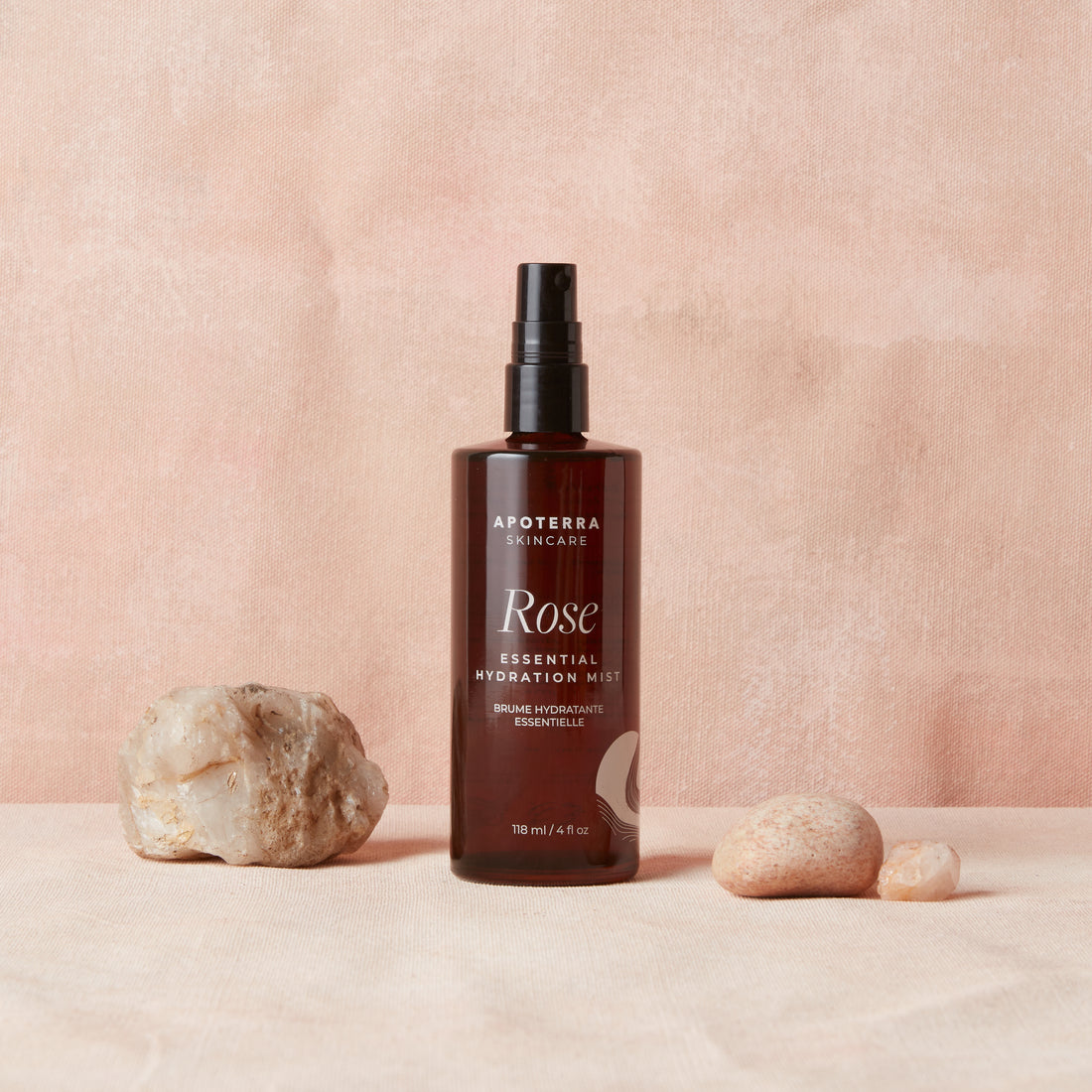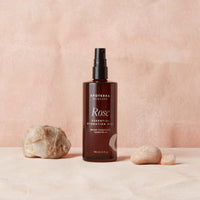 Rose Essential Hydration Mist
4 Ounce
When skin needs hydration, this pH-balanced mist will provide it at a cellular level. Made with a unique blend of rose water, hyaluronic acid, niacinamide, and frankincense, a few sprays of this rose water toning mist will quench your skin and envelop you in a light rose petal aroma that feels like a comforting hug. 
Antioxidant-rich, hydrating ingredients boost the effects of vegan hyaluronic acid, calm the skin, and protect against free radicals that cause premature skin aging. 
Formulated for dehydrated, dry, aging, and sensitized skin. Suitable for all skin types.
Best for dry skin, mature skin, sensitive skin
4 fl ounce | 118 ml
This product is useful for the following skin concerns:
Dryness & Dehydration and Sensitivity & Redness
This product is best suited for the following skin types:
Sensitive Skin, Dry Skin, and Mature Skin
This facial mist is very versatile and can be used in so many ways!

As a Facial Mist:
Our favorite way to use the Rose Essential Hydration Mist is to generously mist your face after cleansing. For better absorption, press the aqueous botanical infusion into your skin. Follow with a facial oil or balm to provide your skin with a complete profile of nourishment.

Mixed into a Facial Oil:
If you love the benefits of using facial oils and balms, but wish they had a lighter cream-like texture, this mist can be used to create an emulsion. In your palm, mix a few pumps of the Rose Essential Hydration Mist with a few drops of your favorite facial oil or balm.

As a Gentle Morning Cleanser:
To use as a cleanser, mist generously onto your skin and wipe clean using a clean reusable cotton round or organic cotton pad.

Mixed into a Facial Mask:
Add a few mists to any dry mask for added skin clearing and calming benefits.

As a Midday Refresh:
This facial mist if made of a blend of damascus rose, rose geranium, frankincense and rock rose hydrosols. The resulting aroma, combined with the refreshing and cooling mist, naturally calms the nerves, offers emotional support and calms the complexion.
Hyaluronic Acid is one of the best humectants available; it's ability to hold 1,000 times its weight in water makes it excellent at drawing moisture into the skin and keeping it there, helping to maintain healthy, hydrated skin.

Niacinamide, also knows as Vitamin B3, is an incredible skincare ingredient that helps improve skin hydration, skin texture and elasticity; it offers antioxidant benefits and helps clarify the complexion. 

Rose + Rock Rose Hydrosols offer amazing skin healing, scar fading, anti-inflammatory, and anti-aging properties. Rock Rose is high in antioxidants that protect skin, neutralize and strengthen the skin's defense against free radicals, which contribute to skin aging. Rose Hydrosol (commonly called Rose Water) is a mild astringent and humectant. Hydrosols are naturally hydrating and have an ideal pH for the skin — unlike pure water which tends to be more alkaline.

Rooibos Tea is high in aspalathin (a free-radical scavenging antioxidant), Vitamin C, and Zinc; it may help prevent sun damage when applied topically and is known to be antibacterial and soothing to irritated or compromised skin.
Full Ingredients List: distillates of Rosa damascena (rose)*, Pelargonium spp. (geranium)*, Cistus Ladaniferus (rock rose)* and Boswellia carterii (Frankincense), Aspalathus linearis (rooibos) leaf* and Water (Aqua)*, Aloe barbadensis leaf*, Sodium hyaluronate(hyaluronic acid), niacinamide (vitamin B3), Leuconostoc/Radish Root Ferment Filtrate

*certified organic
ABOUT Apoterra
The folks at Apoterra want skincare that works and they're not willing to compromise their health or the planet to get that glow. In 2008, founder Dominique Caron was frustrated with the lack of options that worked for her sensitive breakout-prone skin, that were also safe, eco-friendly, and effective; so she set out on a mission to create effective natural skincare products that checked all of her ethical boxes. She founded Apoterra in 2012, then known as Caru Skincare Co, after years of research, certifications and trial and error. As it turns out, you don't have to compromise your values to achieve healthy, glowing skin!

SHOP ALL FROM Apoterra