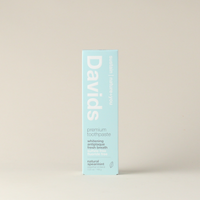 Fluoride-Free Toothpaste
Spearmint
The original natural toothpaste, made from premium natural ingredients, with a natural citrus, cinnamon, and mint oil flavoring for a unique flavor experience. 
This toothpaste provides benefits for natural whitening, anti-plaque, and minty fresh breath, with safe + clean ingredients. Made without fluoride, SLS, or artificial flavor. 
Packaged in a recyclable metal tube; each box includes a metal tube key.

Made in the USA.
5.25 OZ
Full Ingredients List: calcium carbonate (limestone abrasive), vegetable glycerin, purified water, sodium bicarbonate (baking soda), xylitol (birch derived), hydrated silica, sodium cocoyl glutamate, carrageenan (seaweed derived), mentha piperita (peppermint) oil, mentha gracilis (scotch spearmint) oil, mentha spicata herb (spearmint) oil, illicium verum (anise) fruit oil, citrus aurantium amara (orange) peel oil, stevia (leaf extract).
ABOUT Davids
Davids premium natural toothpaste is made using the highest quality naturally sourced and naturally derived ingredients to safely & effectively whiten teeth, fight plaque, and freshen breath. Their formulas are always free of Artificial Flavors, Artificial Preservatives, Artificial Colors, and Artificial Sweeteners.
SHOP ALL FROM Davids