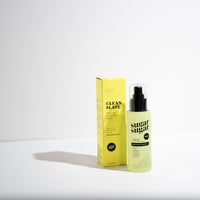 Clean Slate Micellar Cleansing Water
Sugar Sugar's Clean Slate Micellar Cleansing Water is the perfect companion for a flawless sugar waxing experience. Crafted with utmost care, this advanced formula has been specifically designed to prepare your skin for the gentle art of sugar waxing.
Infused with micellar technology, this cleansing water effortlessly lifts away impurities, excess oils, and residue, ensuring your skin is perfectly clean and primed for waxing. The gentle yet effective formula is suitable for all skin types, leaving your skin refreshed without any harsh sensations. By creating an ideal waxing surface, you can trust that your wax will adhere uniformly, resulting in a less painful and more efficient experience.
3.4 Fl. Oz (100ML)
Use it on your face daily, or anywhere on your skin before sugaring and thank us later!
Full Ingredients List: French Lentilly Water, Corn Sugar Propanediol, Poloxamer 184, Plant-Based Polysorbate 20, Pantheon, Plenty Glycol,
Ceremonious Bromide, Renewable Plant-Based Glycerin, Fermented Sugar Beet Citric Acid, Cotton Leaf Extract (Symposium Arborteum Extract)
ABOUT Sugar Sugar
Sugar Sugar Wax's formula has modernized the ancient art of sugaring to deliver a safe, easy and effective hair removal system that you can use anywhere. Sugar Sugar created a system that's clean, green and effective, and wanted to share it with everyone. They want to empower others to take control of their fuzz with a product that comes from nature and returns to nature without harming our only planet. Everyone wins!
SHOP ALL FROM Sugar Sugar